Amenti Oracle: Feather Heart Deck and Guidebook came out in late-spring 2019.
This oracle card deck and guidebook explore the 42 Laws of Ma'at, through the lens of "ancient wisdom for the modern world", while also approaching "divination" as more of a practice in connecting to the divinity in the present moment awareness, not necessarily trying to get a glimpse at the future.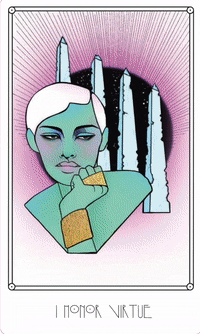 While Amenti Oracle finds its roots in Egyptian mythology, the book seeks the feather-hearted synchronicities and lessons that unite many of the major wisdom traditions, with a poetic grounding in each reflection.
Below is a series of experimental audiobook meditations where Jennifer Sodini narrates passages from the Feather Heart guidebook, paired with music by Michael Costaney and visuals by Sarah Zucker.
Learn more and subscribe to the Amenti Oracle YouTube channel by clicking here.